Saturday: My friends son Waylon at the park, and some of the new goods I picked up recently.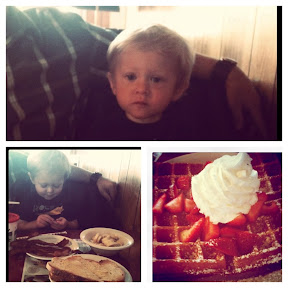 Sunday breakfast with my boys
More Sunday: Carter playing, my dad cooking a Teppan style dinner, and celebrating Rox's bday.
Mon - Wed: My OPK's from the week, fortune cookie, my baby, and sparkley gold flats.
Wednesday & Thursday: Birthday cake Whoopie pies, Carter hanging in Rox's room, and Thursday night dinner with Amy for another celebration of Rox's birthday.
Thurs & Fri: New chalkboard fridge, new curtains, Friday morn outside our office, and a sleepy me arriving at work (the first one there and 2nd to last to leave!)
Want to link up your blog of your weekly phone pictures? Link up below!!
And get the code for your blog over on A Good Life Blog. Thanks for doing this!